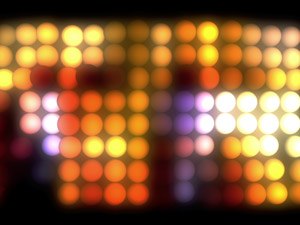 Artist Statement
"It's not enough to just see,sometimes we got to look as well".
Nathan Lane as Phil Webster in 'At First Sight'
The viewer is confronted with a wall of 96 bright illuminated spheres, floating in a virtual space. They can be perceived three-dimensionally. In moments of emitting maximum brightness, the halo of these light sources creates visual connections between the spheres similar to bonding oil bubbles in lava-lamps. All of them are in minimal movement like air bubbles, slightly changing shape.
Together they form a moving image something figurative yet on the verge of recognition. Movements and shapes can be perceived whereas all other details are swallowed in blurry light.
These images are accompanied by a soundtrack, playing the original sound from eight movie excerpts which have all one commonality in their story: The protagonist either re-gains eyesight after an eye operation or describes a vision of an incomplete image.
From this synesthetic surrogate, the viewer is prompted to fill in the missing parts, drawing from his/her own visual memories as well as clichés that the movie soundtrack brings along.
藝術家陳述
「這作品光用肉眼觀望並不足夠,我們得用心細看。」

菲力.韋伯斯特 (內森.連恩飾) 《真情難捨》

在觀眾面前的牆壁有九十六個漂浮於虛擬空間的三維發光球體。在球體到達最燦爛的瞬間,球體的光暈會產生如熔岩燈內的石油氣泡,它們如氣泡般緩慢變形、連繫再分開。

氣泡共同形成一個形象化卻難以辨認的動態影像。觀眾雖能辨認出影像的形狀和動作,但其他細節則淹沒在模糊的光影中。

這些圖片都伴隨著聲帶配樂,配樂來自八齣電影中相似的場景:故事主角在手術後重獲視力,又或是主角在描述一個不完整的圖像。

觀眾會因為替代聯覺,從個人的視覺記憶及為人所認知的電影配樂中填補視覺上的空白。